Peter Kater - two time Grammy-winning Pianist/Composer
Peter Kater has been a leading innovator of contemporary instrumental music for over 3 decades. He's received many awards and accolades for his rich and diverse music including 14 Grammy Award nominations, and recently at the 2019 Grammy Awards won a 2nd Grammy Award for his latest new age album release, Wings.
Sophie Dorsten - Singer/Songwriter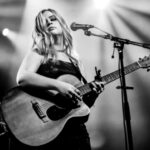 Sophie has been a part of Alice Cooper's Solid Rock teen center for the past several years volunteering her time in both giving vocal lessons as well as big events held; whether it be singing at the event or physically helping. She has competed in the Alice Cooper Proof is in the Pudding talent competition and won 2nd place in 2018. Sophie has even performed back-up vocals with Alice Cooper at a press release party at the teen center - what a blast!
  LIMITED SEATING (OUTDOORS)  PURCHASE TICKETS